According to the European Commission, nearly 1.2 million people died from cancer in European Union (EU) countries in 2019, accounting for 26% of all deaths. Cancer is the second leading cause of death in EU countries, exceeded only by cardiovascular diseases. 30-50% of cancers can be prevented and mortality can be reduced with earlier diagnosis and timely treatment (source).
Leading Causes of Cancer-related Deaths
According to the WHO, about a third of deaths from cancer are caused by 5 main factors: tobacco use, body mass index being too high, alcohol consumption, an unbalanced diet with inadequate fruit and vegetable intake, and physical inactivity (source).
Mortality Rates in Different Age Groups
Based on the European Commission data, in the older age groups (45-64 and 65+), lung cancer is the leading cause of death in Europe (24.5% and 18.6%), followed by colorectal cancer with slightly lower numbers (9.7% and 13.8%). Among women aged 45-64, breast cancer ranks third (8%), while prostate cancer ranks third among men aged 65+, accounting for 7% of diagnosed patients dying. In both age groups (45-64 and 65+), pancreatic cancer ranks fourth (6.7% and 7%).
A slightly different picture emerges for the youngest age group (0-44), with the highest proportion of deaths due to breast cancer (13.9%) and a slightly lower percentage of deaths due to brain cancer, other known as central nervous system cancer (12.2%). Cervical cancer claims 8.4% of lives, while leukemia claims 7.2% (source)
Comparison of Cancer Mortality Rates in European Countries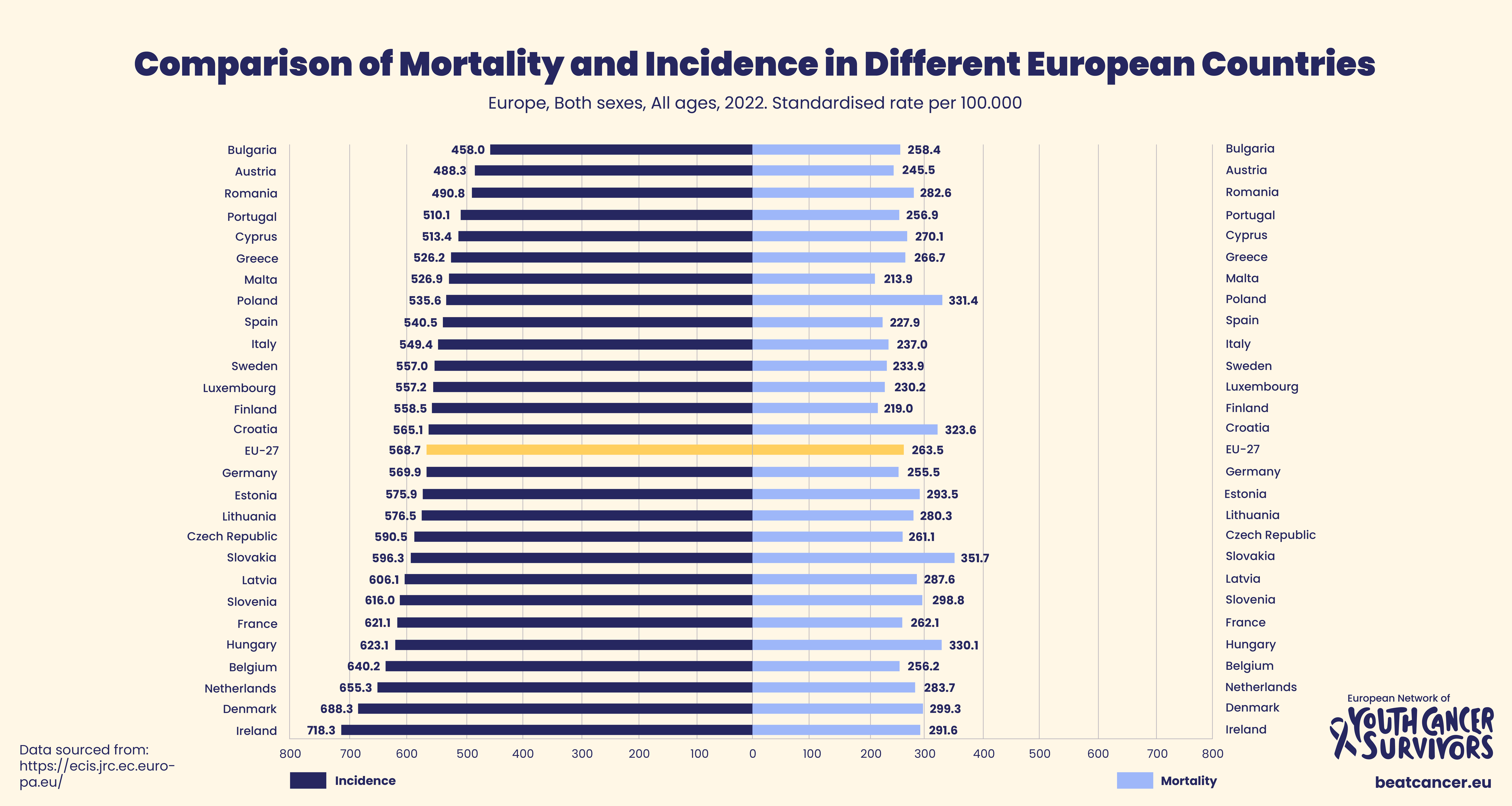 In 2020, Slovakia had the highest mortality rate for both men and women (495.8 per 100,000, 41% higher than the European average for men; and 262.6 per 100,000, 31% higher than the European average for women). High rates were also witnessed in Eastern European and Balkan countries (e.g. Montenegro, Poland, Serbia, Hungary, Croatia).
The lowest cancer mortality rates in men were found in Sweden (272 per 100,000, -23%), Iceland (270.9 per 100,000, -23%), and Albania (243.7 per 100,000, -31%). The lowest female mortality rates were recorded in Spain (161.2 per 100 000, -20%), Ukraine (144 per 100 000, -28%), and Albania (108.5 per 100 000, -46%) (source).
Conclusion
In summary, cancer remains a significant cause of mortality in Europe. Prevention, early diagnosis, and addressing risk factors are critical. Variations in age-specific and regional mortality rates underscore the need for targeted interventions. Overall, a holistic approach is essential to reduce the impact of cancer on the population.